First of all, I am VERY VERY behind in posts so I am going to sum this up real quick.
This summer, I was lucky enough to see Taylor Swift live in concert twice! Once at the TD Banknorth Garden in Boston, Massachusetts as part of Keith Urban's Escape Together World Tour on July 31, 2009. The
second
was at Mohegan Sun Arena in Uncasville, Connecticut on her own Fearless Tour on August 28, 2009.
I wasn't allowed into Boston's concert with my new snazzy Canon PowerShot SX1 IS superzoom camera, so I really didn't get any good pictures. But here is one anyway: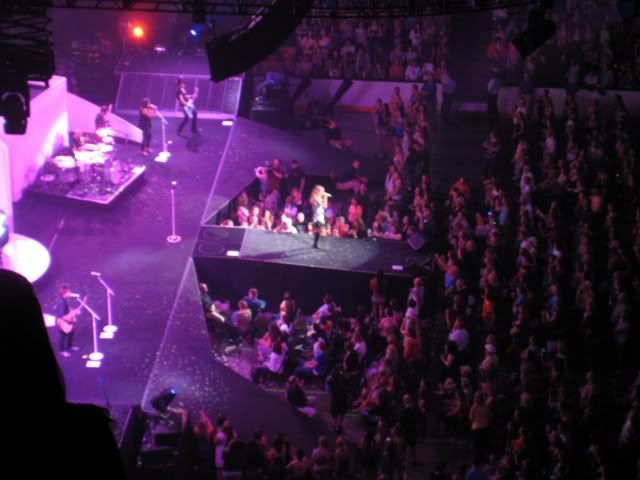 An event that happened before the concert is also worth noting, and kind of funny. Boston is a very busy city but lacks something important: parking. It is very difficult to find any sort of parking for under $35, even if you're only going to be there for a couple hours. After wandering around for a short while, I pulled into some building with a "P" sign. It was very small, as in two parking spaces, but them something happened: a magical door opened. Well, it was just an elevator.. but a big elevator! No one was around so I figured I'd just go ahead and drove right in. Yes, with my car. I got to the third floor and all the spaces were filled. It was pretty cramped so I couldn't really turn around. I got out and pressed the door open button. Moments later a man came out, and stopped. He was kind of stunned to see me, and asked how I got up here. "The elevator", of course. Apparently this building was valet parking. Oops! Too late now. We went off to the show and besides some confusion about which blue car on the third floor was mine, I got my car back in one piece.